To Inform is to Influence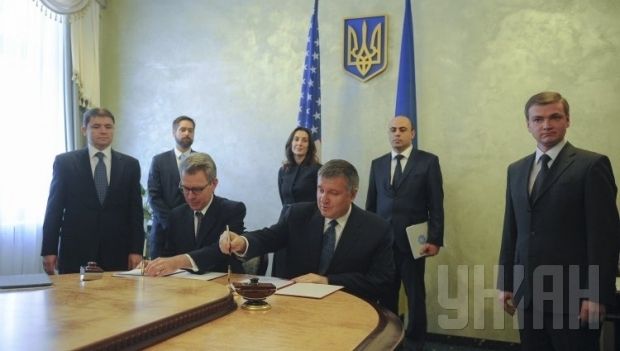 Pyatt and Avakov signed agreement on aid for Ukrainian law-enforcers / Photo from UNIAN Read more on UNIAN: http://www.unian.info/politics/1055367-fbi-to-help-ukrainian-prosecutors-fight-corruption-us-ambassador-pyatt.htmlU.S. Ambassador to Ukraine Geoffrey Pyatt says that the agreement the Ukrainian and U.S. governments signed on Friday to provide $26.358 million in aid in the sphere of law enforcement and criminal justice foresees the effective fight against corruption. 
13.03.2015 | 20:36
Pyatt announced this after the signing of the document, an UNIAN correspondent reported.
Both countries will cooperate in creating a government in Ukraine that would be free from corruption, respect human rights and realize the Ukrainian people's expectations, the ambassador said.
According to him, Ukraine is presently fighting on two fronts: on the one hand, this is an inner front where it is rooting out corruption and building a new society, on the other hand, this is war with Russia in Donbas.
In this connection, the ambassador said, the signed…
View original post 117 more words